Bianca has facilitated national and international workshops, panels, and programs. She has spoken on topics ranging from building creative community interventions to digital strategy and feminist futures.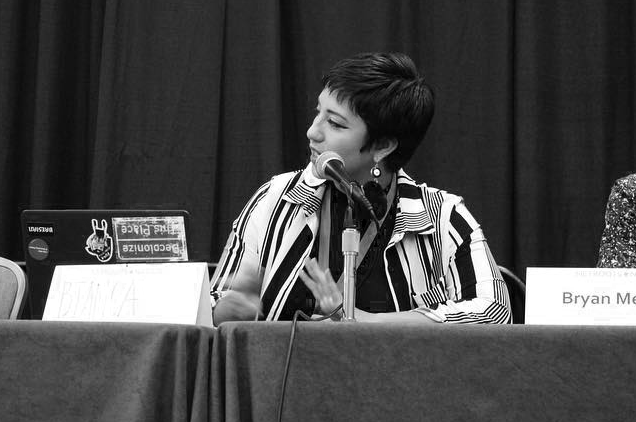 2023
(Upcoming)
Violent Intimacies in Multiracial Asian American Art, Literature, and Performance
2023
Artist Talk | Color Connections | OTIS
2023
Guest Critic | Design 2 | OTIS
2022
Interdependence with Ourselves, Each Other, and Movements | Invited Guest Speaker | The Collective Power of Communicators: Communications Institute | California Grantmakers
2022
Design, Strategy, & Digital Organizing | Lecturer & Workshop Facilitator |
Bocoup
2022
Media Based Organizing | Community Partner, Presenter, & Workshop Facilitator |
A-Doc & Haverford College Impact Lab
2022
Imagining Asian American Futures: Building Digital First Community with Art and Technology | Invited Speaker | Mission Cloud Services
2022 Asian American Feminisms
| Invited Expert | Gender, Sexuality & Feminist Studies (GSF) at Duke University
2021
Media for the Movement: Building Visual Narratives | Race, Solidarity, and the Carceral State, Harvard University
2021
"Anti Asian Violence Beyond Hate Crimes and Policing," | Panelist | CUNY, The New School
2021
Conversation between Alexander Chee, Wei Ming Dariotis, Laura Kina, Bianca Nozaki-Nasser, Curtiss Takada Rooks, and Myra Washington | Panelist | Association for Asian American Studies
2020 Stories That Move
| Speaker | Big City Festival
2020 Building an Asian American Feminist Movement: Decolonization and Anti-Capitalism
| Moderator | 18 Million Rising + Asian American Feminist Collective Building Asian American Feminisms
2020 Organizing From Where You're At: Summer School!
| Cofounder + Lecturer
2020
Organizing From Where You're At
101: Beyond Posts + Protests
/
102: Pushing Forward + Accountability
/
103: Safety + Privilege
| Lecture Series